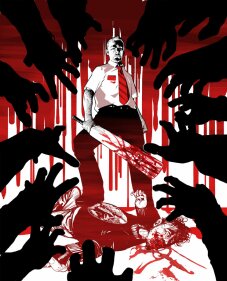 Shaun of the Dead is a romantic comedy with zombies, co-written by Simon Pegg (Big Train, Spaced) and Edgar Wright (Spaced, Asylum.) Shaun, played by Pegg, is a late-twenties slacker with a deadbeat friend – Ed (Nick Frost – Spaced, Sofa of Time) a dead end job, and a relationship that's going nowhere.
Shaun's girlfriend – Liz (Kate Ashfield – Late Night Shopping, The Low Down) is tired of the rut she and Shaun are in. Every night it's down to the pub with Ed, and (in self defense) her room-mates – Dianne (Lucy Davis – The Office, Pride & Prejudice) and David (Dylan Moran – Black Books, Notting Hill.) She demands some change, but Shaun fails to follow through – and so his relationship dies.
But on this particular weekend, not all things dead remain so…
As strange occurrences involving bizarre assaults cross the country, and panic grips the populace, Shaun and Ed recover from a "rough night" and go about their normal routine. Until a girl show up in their back garden, and they discover that she is not drunk – but dead!
Shaun of the Dead, while a very funny comedy, is also a very serious zombie story. In the opening we see the living depicted as zombies, only to later see them as real zombies. It's no wonder that Shaun and Ed don't notice what's happening. The film doesn't make fun of the genre, and is indeed a very loving homage to the horror films of George Romero and Sam Raimi (to name just two) with plenty of in jokes to keep fans happy – but not in a way to loose novices.
Shaun of the Dead opens in the US 24 September, 2004 and is rated R (language and gore.) I give it a 5/5!

Region 2 DVD (PAL) available 6 September, 2004