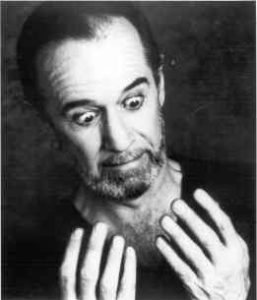 George Carlin passed away yesterday.  It was a bit of a shock, but he'd apparently been having heart troubles for a while now.  It never seemed to slow him down – he'd even just performed in Vegas the prior week.
I remember as a kid in the 70s checking out his records from the library – along with the Beatles, Pink Floyd and Cheech & Chong (this explains a lot about me…) I still can't believe that I could do that, and that my parents let me listen to them (unless they didn't know…) I could easily attribute my laid back attitude to words, and the multiple uses for them, to George.
It was a major highlight that I was able to score tickets to see George at the Rheem Theater in Moraga back in the early 90s. It was an interesting experience, as the area was a little more on the affluent side and George's routine suggested that instead of bombing brown people let's bomb the golf courses. I learned that night the difference between a comedy concert and a stand up routine when George walked off stage until the heckler, who apparenltly didn't agree with him, was taken care of. The concert then continued.
In 1989, I was introduced to George Carlin the actor. I wasn't really aware of any previous acting roles for him, as I grew up on the albums. But seeing him in the cinema in Bill and Ted's Excellent Adventure was a delight, and later in Dogma as a commercially oriented bishop. Both were roles that we're probably not written for him, but ones that you can't see anyone else playing. I recently saw one of his earliest acting roles as the cab driver in Car Wash, and even for the relatively small amount of screen time he had he managed to completely own his character.
The news of his death, however, came quickly on the heels of the announcement that he was to be this year's recipient of the Mark Twain Prize. I was looking forward to seeing this later in the year, as it's televised on PBS as part of the Kennedy Center Presents series. I hope they decide to honor him posthumously instead of awarding it to someone else. I know that part of the appeal is to see the recipient being honored, and it will be odd without him there.
Speaking of odd… George sent out a press release, in response to being named the awards recipient this year, that read: "Thank you Mr. Twain. Have your people call my people." It looks like they arranged a meeting…