Current status: Last aired Sunday, 25 May, 2003 at 10:00pm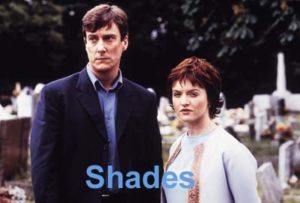 Touching and gently humorous, SHADES follows Maeve (Kirwan) and Mark (Tompkinson), two mismatched strangers making the transition from earth-bound life to something new. Maeve, a free-spirited young woman with a successful career and glamorous life, is having an affair with Freddie, a married man. Mark is happily married to Jo and has a young daughter and a son on the way. The two could not be more different.
The fates of these characters change forever when Maeve is killed in a hit-and-run accident and Mark dies unexpectedly during a routine operation. When the two puzzled souls find each other, they compare notes and a partnership evolves. They are ghosts but not in the traditional sense: they are invisible to those who know them, yet visible to strangers (who soon forget their contact), and they are still bound by the laws of physics.
Freed of the monotonous tasks of daily life and left with only each other for company, they try to make peace with their lives and those they left behind. Mark does what he can to help his family, struggling with the knowledge that he can no longer be with them and that he left them with little financial security. As Maeve tries to track down the driver of the car that killed her, she is forced to confront some harsh truths about her relationships with Freddie and her family. Along the way, Mark and Maeve observe the new lives of their former partners and touch the lives of strangers. Death becomes a learning process as the pair discovers what must be resolved before they can move on.
#101 Maeve is killed in a hit-and-run car accident and Mark dies unexpectedly during a hernia operation — while his wife is giving birth to their second child. The two find themselves still in this world, but dead, and visible to strangers, but invisible to the people they knew when alive. Wandering the streets of London in confusion, they meet each other and are excited to discover they are not alone. Mark struggles with the fact that he has left his family with little financial security, while Maeve is intent on discovering the identity of her killer. Maeve discovers her married lover in bed with her friend Kate, but they can't hear her shouts of fury.
#102 Maeve's mother and brother come from Ireland to London for her memorial service. When Maeve and Mark follow her brother, Finn, into a gay bar, Maeve thinks he's made an innocent mistake and forces Mark to strike up a conversation. Finn tells Mark he is gay and, to Maeve's horror, Mark persuades Finn to tell his mother. At the funeral Maeve's mother and brother are not speaking, and Maeve's lover, Freddie, gets drunk and hits on one of Maeve's colleagues. In Mark's household, Mark is angry that his wife Jo has invited his estranged father, Alan, to his funeral. At the ceremony Mark asks Maeve to get rid of Alan. Instead she invites him to the reception at Jo's flat after the funeral. Mark visits the flat and is furious to hear Jo tell his father that he died without a valid insurance policy.
#103 Jo is unable to cope with her loneliness following Mark's death and is keeping Rachel out of school. Meanwhile Mark discovers that he is able to hold his newborn son, Adam, without feeling any pain — the normal reaction when the "ghosts" come in physical contact with people. Maeve and Mark become involved in sorting out the mystery of an abandoned baby. Maeve disturbs Freddie's life in order to punish him for his recent promiscuity — she lures his son away for a few hours, making his wife furious at his lack of responsibility. Mark is appalled by Maeve's behavior.
#104 Faced with mounting debts and bills, Jo decides to take control of her life. She gets a stylish new haircut, goes on a job interview and lands the job. Mark and Maeve meet an elderly couple, Ed and Irene. They learn that Ed is dying and that he killed a man during the war. Mark and Maeve investigate Ed's story and he confesses that the man he killed was Irene's lover. Ed dies having made peace with Irene. Freddie takes ecstasy at a party with his newest love interest, a teenager named Lucy. Mark's and Maeve's worlds collide when Jo and Rachel find Freddie asleep on a bench looking sad and disheveled.
#105 Mark and Maeve find themselves at a Jewish wedding. Mark meets the jittery bride and she locks herself in a room with him and refuses to come out, but he persuades her to go through with the wedding. Meanwhile, Maeve meets and falls in love with Ben. After the wedding they make plans to travel the world together. However, when Maeve meets him the next day, he does not remember meeting her. Freddie and Jo are becoming friends. Jo thinks Freddie's wife has died and is angry when she discovers the truth, but she forgives him, seeing how lost and alone he is. Mark thinks the very worst when one night Freddie falls asleep at Jo's.
#106 Mark is furious about Freddie and Jo's friendship and Maeve offers to find out if it is platonic. Rachel suffers a huge electric shock from a wall outlet. Hospitalized and in a coma, she is reunited with her father. Finally able to hold and communicate with his daughter, Mark cannot bear to return her to the hospital. Maeve convinces him he must if she is to live, and Rachel indeed recovers. Maeve finds the car that killed her and at first thinks it is the owner who is responsible. Later she finds that it was his mother who was driving and sees that she has suffered enough. Having made her peace, Maeve disappears leaving Mark alone to face the future.