Current Status: Airs Tuesday, 27 May, 2003 at 6:30pm & Thursday, 29 May, 2003 at 9:00pm
What I find so compelling in J.K. Rowling's stories is that she draws on myths and legends from around the globe that appeal to all cultures.

Gavin Scott, Screenwriter (The Mists of Avalon, The Borrowers)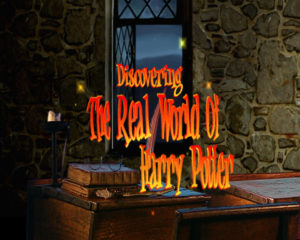 The enchanted world of Harry Potter, the bespectacled boy-wizard, has taken the muggle world by storm. And now DISCOVERING THE REAL WORLD OF HARRY POTTER brings a real-life focus to the Potter phenomenon by uncovering the people, the legends, the myth, the magic and the real places that inspired the tale. In interview clips, J. K. Rowling shares her feelings about being the author of the most popular children's books of this generation and discusses her inspiration. The film visits the locations Rowling transformed into Harry's world of witches, ghosts, wizards, potions and spells. Narrated by Hugh Laurie (Black Adder, Sense and Sensibility, Stuart Little).
The journey begins in the village where J.K. Rowling grew up. On Nicholl's Lane, she met Ian Potter, a childhood friend with whom she played games of "witches and wizards" and who inspired the Potter name. Next, a trip beneath Platform 9 ¾ in King's Cross Station reveals it to be the burial place of an ancient Queen. The film also investigates the origins of the Philosopher's Stone (Sorcerer's Stone in America) and tracks down the real ghost of the Grey Lady of Chillingham Castle on the border of England and Scotland.
In the oldest house in Paris, Jean Dubois, an 82-year-old disciple of alchemist Nicholas Flamel, tells of his journey in search of the true Philosopher's Stone. In Merlin's cave, Kevin Carlyon, a modern white witch from England talks about the significance of owls in magic, how magical wands are made and how to fly a broomstick properly.
In Scotland, viewers discover the private boarding school Gordonstoun, a possible model for Hogwarts, that boasts such alumni as Phillip Mountbatten, the Duke of Edinburgh and Prince Charles of Wales. The founding headmaster was renowned as a wizard who built a round courtyard in order to escape from the Devil. The school is divided into "houses" and just as at Hogwarts, houses compete fiercely against each other in sports. The film shows medieval games that have strong similarities to "Quidditch" and explains the rules of Rowling's magical sport.
The quest to discover the true origins of Harry Potter draws on the history, customs and legends of ancient Egypt, Greece and Britain. There are similarities in the hero's journey undertaken by Harry Potter and those journeys taken by the gods, mortals, wizards and kings, such as King Arthur and Homer's Odysseus.
Using vivid location footage, interviews, dramatizations and cutting-edge computer graphics, this revealing documentary brings new dimensions to the history, alchemy and mythology behind the magic of Harry Potter.
Executive Producer: Anthony Geffen. Writer/Director: Shaun Trevisick. Producer: Sarah Strupinski. Produced by Atlantic Productions (Raiders), Ltd., DISCOVERING THE REAL WORLD OF HARRY POTTER is distributed to public television stations nationwide by APT's Premium Service.