For my first ride I chose to go out to dinner. I picked the Old Spaghetti Factory for my destination, because the past weekend I was in San Diego (nearly 600 miles from home) and almost went to the Old Spaghetti Factory there. My comment was that I felt funny traveling nearly 600 miles to go to a restaurant that I could bike to – despite the fact that I hadn't touched my bike in a few months! We didn't end up eating there, as it was something like a 90 to 120 minute wait (we had fish & chips at a nearby pub.) The trip to dinner was 1.3 miles (with a brief stop to fill my tires.) The road was blocked to motorists, and they were setting up something in the street when I arrived. I locked up my bike and walked passed a jazz floutist on my way to the restaurant.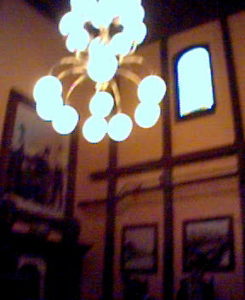 This is a picture of the chandelier in the lobby of the Old Spaghetti Factory, taken with my phone. The wait to be seated was about 15 minutes, but I kept moving about as my legs were a bit wobbly. I took the picture after finally taking a seat – only a minute or so before being called for my solitary booking…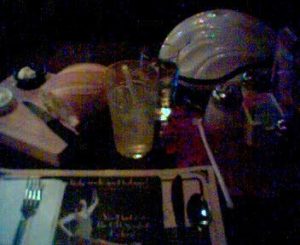 I ordered the Chicken Marsala, with a salad and a lemonade. They also brought a complimentary loaf of bread (which you can see in the above photo, along with my lemonade and special dinner hat…) The lettuce in the salad was getting a bit old, but the Chicken Marsala was a bit of chicken-y heaven in my mouth. If I hade a dinner date, I would have insisted they have a bite…
Eventually I had to leave the restaurant a go back home, but I was briefly distracted by the event that was being set up when I arrived. Apparently they have been running movies in San Pedro Square on Wednesdays. This week it was Tippi Hedren in the Hitchcock classic The Birds. I would have stayed for the film, but I had just seen it a week and a half prior at a friend's house.
So I rode the reciprocal 1.3 miles back home, where I took some Advil and hopped into the shower…
Total Miles: 2.6
Spent: $14.88