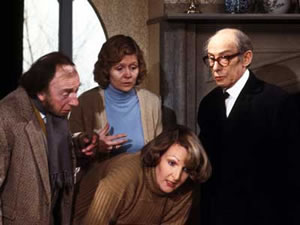 There's not much more that one can say, except for "YAY!!!" That's because we get one more new episode of the classic late 70s comedy "To the Manor Born". Read all about it here.
On a similar note, but not with so much enthusiasm, the comedy "Spaced" is currently in the pilot stage for FOX.
Now the history of UK to US comedy conversions is, to say the least, very spotty. Programmes like "Till Death Us Do Part", "Steptoe and Son" and "Man About the House" did very well on US TV as "All in the Family", "Sanford and Son" and "Three's Company", but how many attempts were there at doing "Fawlty Towers" that fell flat on their faces, and even more recently "Coupling" bombed big time.
Sure the US version of "The Office" has managed to break the trend, but will "The IT Crowd" sink or swim? Will the team doing the US version of "Spaced" be able to do it justice, or will it be a pale imitation of the original. I have to admit that I had fancied it being remade, and imagined setting it in the San Francisco Bay Area (well you go with what you know, don't you?)
Hopefully, they'll get Pegg and Haynes (nee Stevenson) to participate. Maybe they could get Wright to direct the pilot! One can dream…