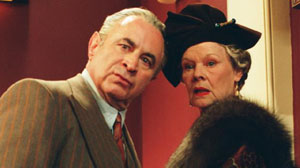 What do you do if you're a wealthy octogenarian widow in the 1930s? Well, if you're Mrs. Henderson, you buy a west-end theatre (because sitting on charity boards, and taking up tedious hobbies just won't do…) You also hire a fantastic producer, and put on the best show ever. The problem is that when you have a hit formula – in this case a non-stop revue – all your competitors steal your idea and your audience… So how do you compete with that? You spice up your show, the only way a wealthy octogenarian widow in the 1930s could, with live nude women! Mrs. Henderson Presents is the true story of Laura Henderson (Judi Dench), Vivian van Damm (Bob Hoskins), and the stage revue that revolutionized British entertainment.
First of all, and to no real surprise, Judi Dench is fantastic in this. Turning the image of a prim and proper woman from the Victorian age on its head. A woman of her age in this age simply does not run a theatre. And when business slips, she is the one that comes up with the idea of utilizing bare-naked ladies. This is 1930s England, however, and this sort of thing has to be cleared by the Lord Chamberlain (Christopher Guest) – and he just simply cannot allow this sort of thing. Though he does eventually acquiesce to Mrs. Henderson's request on the provision that the nude subjects do not move during the performance – much like the paintings in a museum.
Now it's up to van Damm to put together the troupe. After an attempt at the normal casting calls – where they discuss such attributes as the Britishness of one's nipples, and the unevenness of another's breast, or the overall size ("fired eggs" exclaims Mrs. Henderson) – van Damm ventures out to find the right face, and he finds her after nearly killing her. He now has his star, and sets off to create the revue of all revues – and this review is a hit. Not even the blitz can stop it, as the theater is actually subterranean – a perfect place to be entertained while being bombed.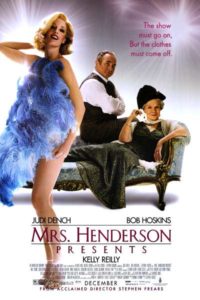 The acting is this film is brilliant. Judi Dench, as mentioned before, is fantastic and is well deserving of her Oscar nomination. Bob Hoskins – who also produced this film – is perfect as the irritant to Mrs. Henderson, and while having his usual gruff demeanor displays genuine sensitivity when needed. There are plenty of wonderful scenes between the two leads that range from wonderfully comic scenes to sincere pathos. The comedy arising from Mrs. Henderson's free spirit attitude and the near puritanical attitude of those in her circles is priceless, and how van Damm deals with her in his world.
And while the subject matter is highly titillating (pun intended) it is not necessarily prurient. The nudity is a matter of fact for this story, and is treated as such. There is no "fooling around" on screen, nothing steamy. Even an all gender full monty moment (even fuller than in the Full Monty) ends up being more comical than exciting.
The production numbers are fantastic, and the (slightly ironic) Oscar nominated costume design is beautiful. After seeing Mrs. Henderson Presents, I find myself surprised that it only received two nominations this year – but then again, the film is being distributed in a limited run and apparently with out the publicity machine that the Weinstein brothers used to have even in their old Miramax days.
I can't recommend Mrs. Henderson Presents for the entire family, considering it's content, but I can recommend it for anyone who is of age and isn't afraid a seeing quite a bit of "skin".