Named Dexter.
Weight 715kg
1340 mm tall and 3054 mm long
He's a red head, with white streaks.
Arrived in my world this morning at about 8 AM.
Oh, and Dexter is right handed…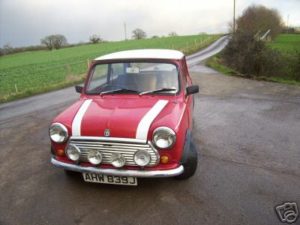 Ok… To be fair Dexter is alrady 34 some-odd-years old, hails from England, and has been in the US for a couple of weeks. This picture was taken by his previous owner.

I am currently worknig on the fun of registering Dexter as a resident of California. Apparently Dexter only has one VIN plate, but the DMV want's two. Now I have to get Dexter blessed by the CHP (you know, those fellas made famous in the 80s by Eric Estrada!)
Dexter also has some routine doctor's appointments over the next week or so.