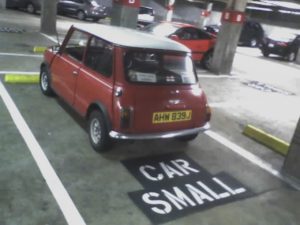 It's been over a month since I last wrote about Dexter, the right-handed Mini. For those of you not in the know, Dexter is a 1971 Austin Mini 1000 (with the heart of an 850.) Dexter came to me in May of 2005 form the UK, by way of Burbank, California. As you would expect (and can see from the picture to the left) he is a small car. Smaller than the new MINIs that are produced by BMW, and smaller than the Nash Metropolitan (YIKES!) He has become my pride and joy (not having any kids myself…) and is loved by all…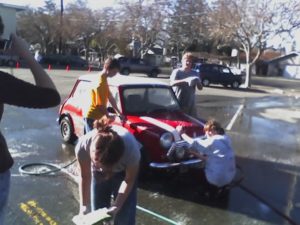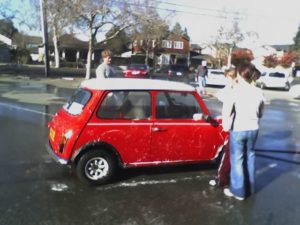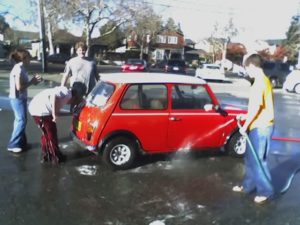 Since I last wrote about Dexter, he has had another proper bath (not just the rain that we've been getting lately.) I am lucky to be surrounded by three schools (grammar, middle and high) that tend to have useful fundraisers. The Hoover Middle School kid's tend to do a car wash periodically. Whether it's their soccer team, cheerleaders, orchestra and choir, I will drop by and have Dexter given a nice little bath. This last one was on the 10th of December. A couple days later, it rained again – but Dexter was clean…
They all love to wash Dexter…
On New Year's Eve, Dexter developed a serious "cough". In the morning of the New Year, I was able to determine that oil was fouling one of his spark plugs. This is not good. I finally got him to a doctor today, where it was determined that one of his exhaust valves is the blame. The price tag on a valve job is around $1000.
For a few months now, I've been toying with upgrading Dexter's engine. He only has a little 850 (848cc) inside. In 1971 I'm sure that wasn't too bad for getting around. In 2006 it's a little on the slow side. Even when all four cylinders are going, I find it hard to keep up to 65-MPH on the freeway (and most everyone else is going faster!) Luckily, the folks at MiniMania have used engines at a reasonable price. These are higher powered (the 1275) but also require many more changes to Dexter than I was originally banking on. So originally I had put this plan on the back burner. With today's news, however, this plan is now going into full force.
So, here is what needs to be changed to accommodate the new engine: Carburetor, intake and exhaust manifolds, exhaust system (which needed to be replaced anyways), starter, and shifter. I'll also be replacing the water pump and heater valve – as they were already on my list of stuff to replace. I'm also considering replacing my radiator. It took a bit of a beating when the dynamo pulley split.
So, for those of you keeping score, I paid $4800 for Dexter. So far, I've put in about $2400. Now I'm going to be putting in about another $2400 in parts, plus $800 – $1600 in labor. I think I should try to resist these stereotypical urges to try to do things on the cheap (nee – thrifty!)
But, despite all of this – I still love my Dexter. It wouldn't be the same relationship if I hadn't had to put all this work in to it. It's like those credit-card commercials. Car: $4800. Maintenance: $6400. A car that everybody loves: Priceless…