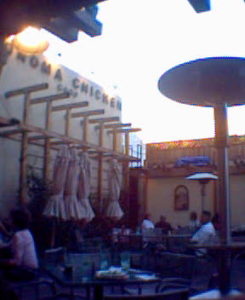 Rode back out to San Pedro Square, where on Wednesday's they run a movie in the middle of the road.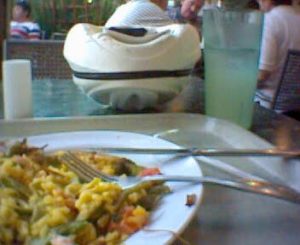 First I had dinner: Salmon on a bed of risotto, plus a lemonade, at the Sonoma Chicken Coop. It's not as inexpensive as I was led to belive, but the food is decent and not overly expensive. Easily reccommended.

This is the remains of my Risotto (the Salmon is completly gone), half a lemonade and my "dinner hat."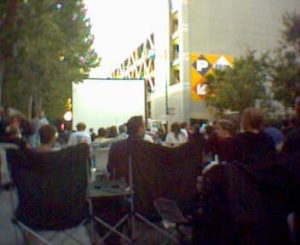 After dinner was – of course – the movie.
First a stand-up named Gretchen Rootes (somewhat funny…) and a very entertaining short subject called DysEnchanted. The main feature was the Coen brothers masterpiece The Big Lebowski. This was the first time I have seen the film, and I can not reccommend it enough. I have yet to see a Coen brothers film that I haven't liked (though, bad me, has only seen 5 of them now…)
Total Miles: 2.8
Spent: $12.93